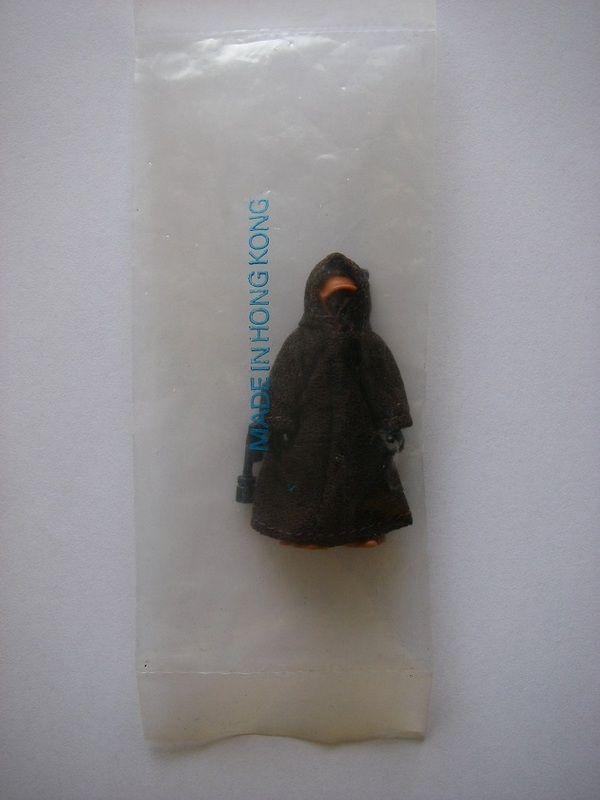 Different baggie type now allocated as Palitoy-d after discovering that the Palitoy-k baggie (shown at the bottom of the page & is a Gamorrean Guard) was in fact produced through the full life of the toy line rather than just in the SW wars era, so the previously thought to be Palitoy-d (Black sharp edge thin font large letters), is in fact a Palitoy-k.
NOTE: This is the only known figure baggie combinations for this specific baggie type.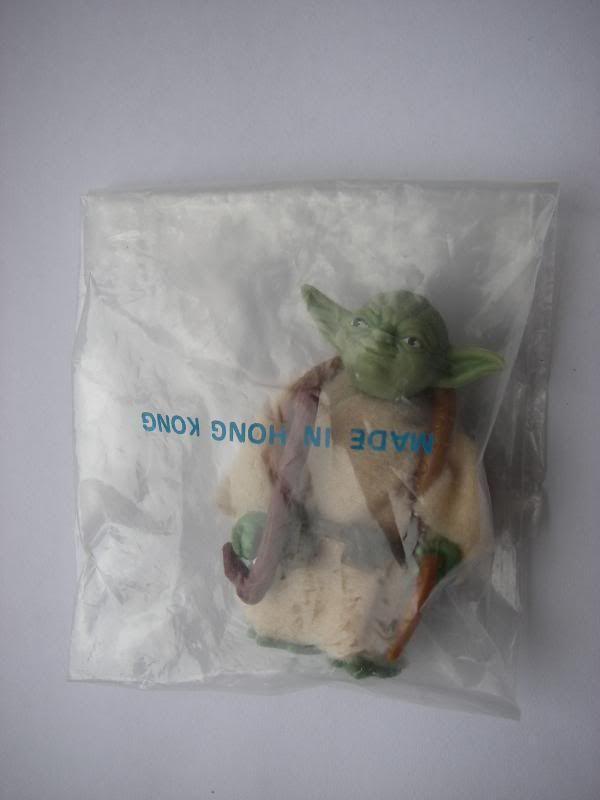 Small light blue horizontal font soft baggie,. This is the longest of all baggie types being almost twice as long as most examples & is found both tape sealed & open ended, a few examples of it have even surfaced simply knotted to seal it, I would have written the knotted examples off totally as just done after the fact if it were not for a large cache of 8D8's turning up like it many many years ago, obviously only examples found tape sealed can be 100% confirmed as it's way to easy to switch the figure out on an open or knotted example, so caution is always advised when looking to buy this type of baggie.
The font is a lighter blue than the Palitoy-a's & the font is also notably smaller.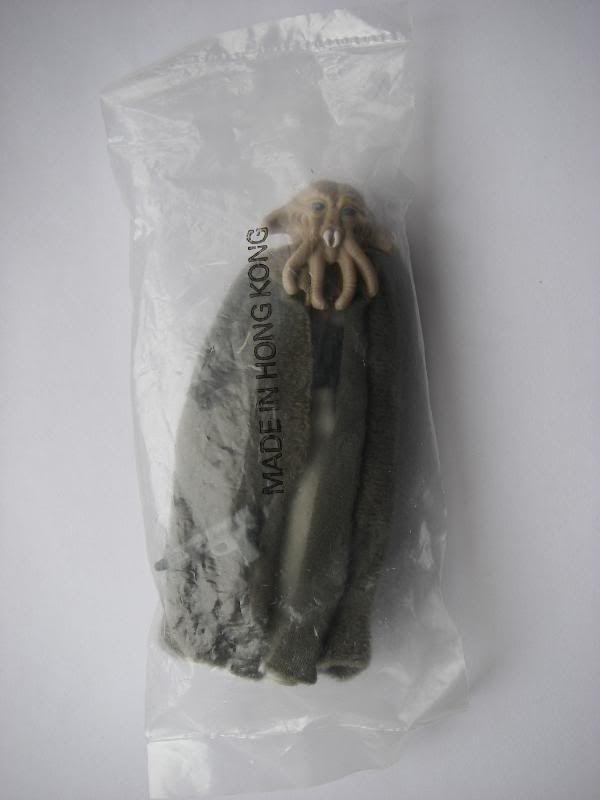 Black straight edge large font, almost always mistaken for SW-f but is clearly not, this is a very soft & thin baggie material & every figure found in this type has the same coo's as Palitoy figures found on Palitoy MOC's.
Revised to Palitoy-k. On close examination of many examples it is clear the font type & set / size & length of the font are identical, the baggie material are the same & the top & bottom heat seals are an exact match, so in short the Palitoy-p classification has been permanently removed from the guide/line up of baggie types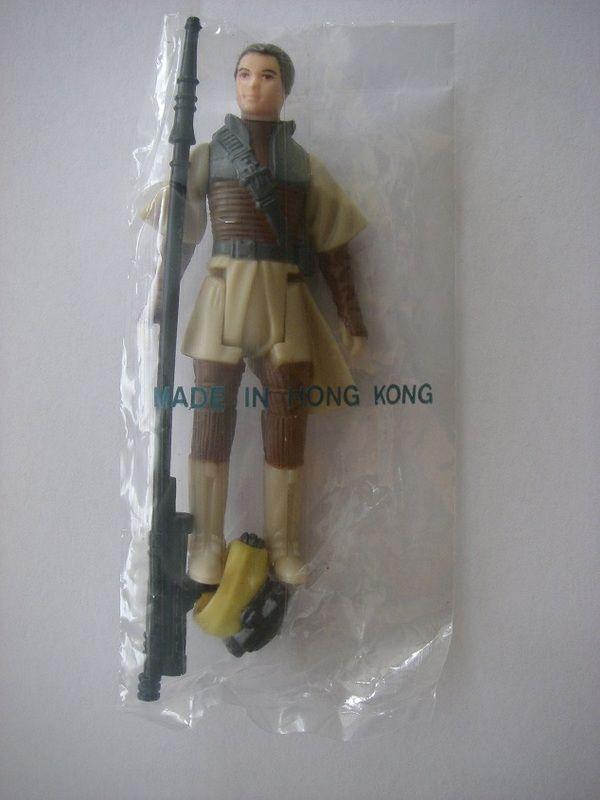 This baggie type had previously been mistaken for Palitoy-n, but on close inspection there are a number of notable differences between the two colours of font, N being more desaturated and the sharpness of the font edges, while the (new) P classification has a more blue-grey colouration.
Palitoy-r Now no longer exists & the image has been removed & will be added to the fakes section. No Palitoy-r classification exists now!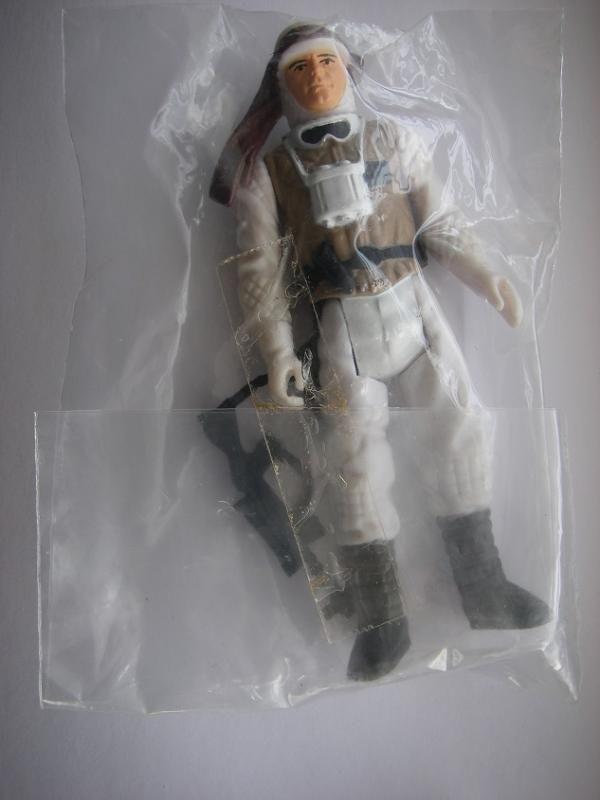 I am pleased to be able to confirm this baggie was not solely found in the Hoth rescue pack & was in fact a baggie I suspect to be an internal baggie, usually intended for opening for carding (speculation), as Laurence found a good size cash of mostly palitoy issued baggies in a loft find from someone who actually got them all back in the day & has had them stored in a loft ever since, a great find which also confirms that Palitoy had some Kenner issued baggies at the time toward the end of the toy line, so hypothetically speaking, some of the woolies 8 packs that have been found with the odd Kenner baggie included in the lineup (sadly all open examples to date) may in fact be correct.
Special thanks to these contributors for their knowledge and image contributions:
Laurence Dyer, Andrew Neo, AJ, Snaggletooth, Kevin Bletsoe, Brett Meyer, DEL, Gary Borbidge, Edd Grant, Chris Eddleman, Vince Hely, Nathan Maunder, Jamie Woollard, Niels Pit, Andrew MacLachlan, cantina_patron, Franck Gadal, Joe, Richard Temple, Sven Schneider, Steve Savory, Shane Carter, Chris Fawcett, Andy Clarke, psybertech, Jake Neilheisel, Alex Pardi, Marc Caraway, Spookedhippy, Frank Ferro, James Body, Jonathan Freeman, Grant Criddle, Chris Arbizzani, RobbieZombbie, Narayan S. Naik, Mark Yeo, SHAWN_K, Andy Raymond, MOMIKE, theguiltyone, Sublevel Studios, Mike Silver, Mr Palitoy, Ronny Anngren, Willem-Jan Bos, Robert Heron, Darren H, REBELALLIANCE, Uncle Ron, LandoSkiff (Dan), Mike Horn, Pat O'Brien, Benjamin, Samir Krim, Pete Fizke, Final Frontier, Mike Heel, MR KENNER, Chris Fawcett, John Kellerman, Paul Naylor, Matthieu Barthelemy, Stéphane Faucourt, Andy Clarke, Yogi, Chris Simmons, Stormtrooper37, Robert Heron, Thomas Derby, Todd G, Sheldon Wagstaffe, Derek Ho, Broc Walker, Adam Marks, James Gallo, Charles Jones, Darrell Johnson & Brendi Burton, Christian Somma, Johnpaul Ragusa, Jesse Cedar Soberman, Dorothée Drouin Franck Gada, Dennis Hall.
Photos in the guide galleries below are compiled from a number of photo sources. It's not been possible to find credits for each one, however, if you own one of the featured images and want to have your credit added, or don't wish to have your photo included, please let me know and I'll arrange.
Thanks, Chihuahua.