Any of the 20D, 20E, or 20F backs with added offer extension stickers (3 different).
Offer: Boba Fett
Sticker: Any of the D or E stickers, PLUS combinations of:
EC1– Small round red offer extended until 3/31/80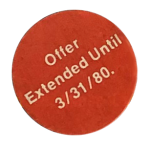 EC2– Same as G1 but larger size
ER1– Rectangular red offer extended until 12/31/80

Identical to 21A-SW with a large secret figure sticker. Three additional variants result of combinations of 2 extension stickers.
Offer: Secret Figure
Sticker: Large (1/3rd of the height) Free Secret Figure offer + additional variants based on: